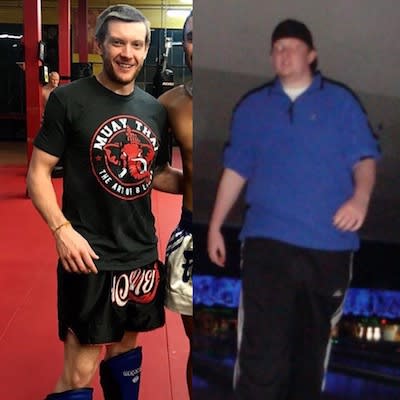 Ian Mckay
Growing up in North Kingstown, RI, I spent the first 20+ years of my life doing the only thing I loved, playing hockey. I dabbled in just about every sport you can think of. None of them could hold my attention the way hockey did though. Despite being a fairly accomplished multi-sport athlete, I had very poor diet and lifestyle habits that caused me to be more just a little overweight for most of my life. When I was 18 I weighed 265lbs and owned a 44 inch waist. I owed it to myself and the people close to me to make some serious changes.
About a year later I began my journey towards better health and a happier life. I became OBSESSED with my nutrition and increased my activity level exponentially.
By early 2015 I had whipped myself into pretty decent shape, but it was time to kick things up a notch. I started training in competitive kickboxing and fell in love with it almost immediately. It was there that I was able to realize my true potential, not only physically, but mentally as well. Kickboxing has brought me to a level of confidence, focus, accountability and maturity I had never experienced. I feel beyond blessed to share my passion with students and help them make the same strides I made towards a more fulfilling, happier lifestyle.